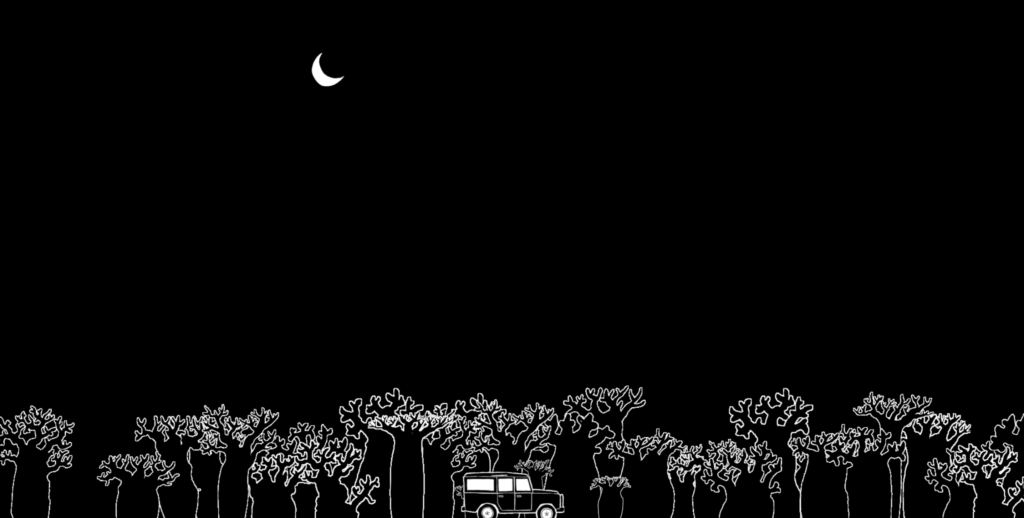 Télégramme de Dakar is one of the poems from the collection "Plumes", by Henri Michaux.
Here is a proposition of an illustrated animation of the text of the french writer. The piece is composed of scanned drawings animated with javascript into an internet browser. It's directly visible here.
You'll find here above a recording of the animation from the browser.
Hereafter: screenshots and translation of the original french text.
Telegram from Dakar
In the dark, at night.
car in the countryside.
Baobabs, Baobabs,
baobabs,
Baobab flied.

Baobabs many baobabs
baobabs
near, far, around,
Baobabs, Baobabs.

In the dark, in the evenin,
Under low, pallid, shapeless clouds,
ragged, filthy,
in tatters, driven away by a wind
by a wind we don't feel,
under clouds for knell,
motionless as dead are the baobabs.

Curse!
Curse on CHAM!
Curse on this continent!
Village
sleeping village
village passes
Again in the reopened plain: Baobabs
Baobabs baobabs Baobabs
Africa in the grip of the baobabs!

Feudals of the Savannah. Old Scorpions.
Ruins with stubborn loins. Posts of the Savannah.
Morbid drums of the land of misery.
Masses of a continent that is afraid
Baobabs.

Village

Blacks
Black how much blacker than the tan
Defenseless black heads swallowed by the night.
We talk to the beheaded
the beheaded answer in "ouolof
the night still steals their gestures.
Levelled faces, softly moulded without pressure
village of black faces
village of a moment
village passes

Baobab Baobab
Problem always there, planted.
Petrified – exacerbated
box-tree with heavy branches
with elephantine arms, which does not know
to bend.

Oh far away
Oh dark distant ones brooded over by others
Baobabs
Baobabs, Baobabs, Baobabs
Baobabs that I will never see
spread out in infinity. Baobabs.

Sometimes a bird flies away, very low, without momentum,
like a rag
A Muslim stuck to the ground implores Allah
No more Baobabs.

Oh sea never yet so bitter
The port in the distance shows its little claws
(thin port fiercely embraced).

No more
no more
no more baobabs
baobabs
baobabs
perhaps never again
baobabs
baobabs
baobabs.
Henry Michaux