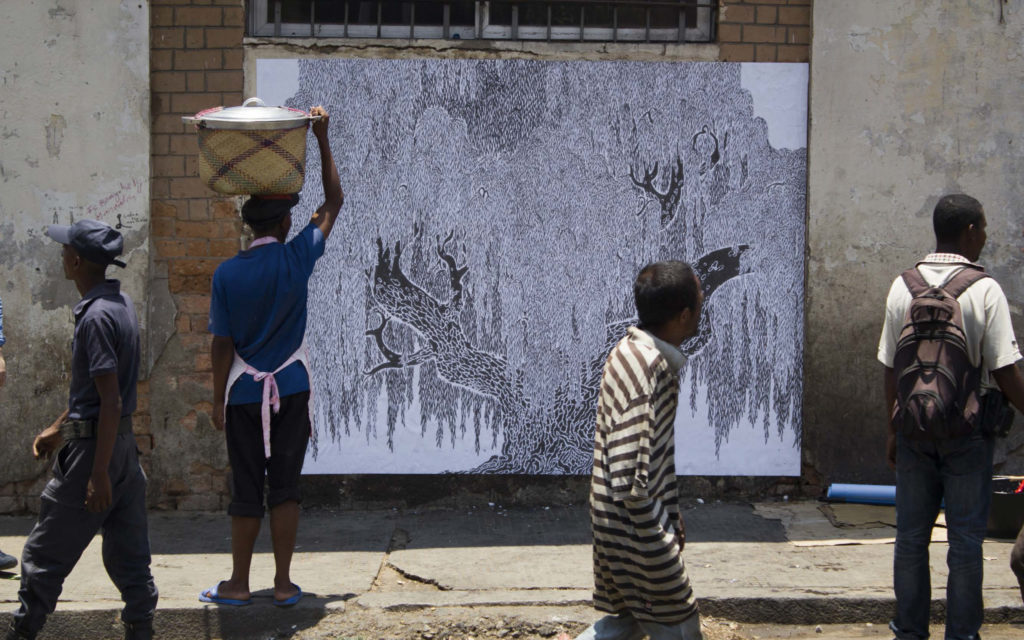 Analakely is a folk district of Antananarivo, its geographical center and its main open air market place. It was once a wood. That explains the signification of the name ("anala kely" means "small forest" in Malagasy). Today these streets gather merchants from the surrounding suburbs and countrysides, with their stands on the ground, their poultry, vegetables, toys, second hand clothes… the cars, the street vendors, the kids playing around, tourists…

"Analakely – The Little Forest" is a pluridisciplinary artistic project. It consists in the production of 60 original drawings, in a performative installation of those drawings in the streets of Antananarivo and in the production of photographies of the installations.

The purpose was to offer the artworks to an unusual public, to confront their stillness and silence with the city-center chaos.

Many thanks to Gœthe Institut for its kind and very active help, as well as to Antananarivo's Cityhall, and to the residents for they collaboration. Many thanks to all the crowdfunders who financiated the project. A special thank the artists Lucas Sergio Andriananja and Naty Kaly for their spontaneous and generous help. Thanks to Helloasso and 59 Rivoli for their sponsorship.